Hello, honored guest, and welcome to NowIsForever! Please take the time to look around; we hope you will enjoy yourself while you are here. NowIsForever is a traditional Warriors roleplaying site set in the old forest. Our story takes place a few generations after SkyClan has been driven from the forest, well before the time of Bluestar or Firestar. We are always accepting new members, and our friendly members and staff will make sure to accommodate you to make sure that you can be integrated into the roleplay. Please consider joining our growing community; we know you'll love it!
Rivermist, a half-Clan queen in WindClan, and a half-Clan warrior from ShadowClan by the name of Foxfur had eight kits. The kits were raised in their mother's Clan until they were three moons old, when things changed.

After a request from the kits' father caused Rivermist to contemplate moving some of her kits to ShadowClan, WindClan's leader made the shocking decision to split the queen's kits evenly between all four Clans. Under the reasoning that the kits had the blood of all four Clans within them, two kits were sent to each of the other Clans, while two remained in WindClan with their mother.

Though all eight kits currently struggle with the after-effects of this tumultuous change, more is still to come. After the kits all become apprentices, one by one a kit from each Clan will die, until there is only one left alive in each of the four Clans. In honour of their fallen siblings, the apprentices will eventually take their dead littermates' suffix as their warrior prefix.

But what further troubles await these ill-fated offspring of a cursed union? The Cats:

Rivermist ~ (Deceased)
Foxfur ~ (APC)
-----
Spottedkit ~ (Spore)
Stonekit ~ (Kitty)
Swiftkit ~ (Cai)
Sandkit ~ (Yellow)
Silverkit ~ (APC)
Stormkit ~ (Yoko)
Shadowkit ~ (Amber)
Streamkit ~ (APC)

The Kits as Warriors:

Spottedstone -- ThunderClan
Swiftsand -- ShadowClan
Silverstorm -- WindClan
Shadowstream -- RiverClan
Five she-cat warriors of WindClan and RiverClan have been great friends for moons, and decide to do something crazy. They plan to get pregnant and have kits all at the same time, but one thing they don't count on is how many kits this really means!
The five queens each have four or five kits... that's a lot of kits to be born at the same time! But no-matter how tumultuous the idea seems, the queens have no idea what shocking change will come of their innocent plot.
The Queens:
Gingertail
~ (Kitty)
Thrushtail
~ (Ki)
Littlestream
~ (Izzie)
Doveclaw
~ (Spore)
Robinwing
~ (Cai)
The Mates:
Dustfur
~ (Yellow)
Birchnose
~ (Yoko)
Batheart
~ (Spore)
Tigerheart
~ (Cai)
Rabbitheart
~ (Yoko)
Read more about it
here.

early leaf-fall
year one
prey moderate
breeding | birthing
Codes either belong to various members of Slightly Insane or ProBoards Support, and are copyrighted to them. Images have been modified, but are still copyrighted to their rightful owners. Posts made by Now Is Forever members and the material therein are copyrighted to them.


Copyright 2010 All Rights Reserved



Now Is Forever :: official info :: CHARACTER DIRECTORY :: SHADOWCLAN CATS :: Post Message




Topic Summary
Posted by Yoko on Aug 12, 2009, 9:23pm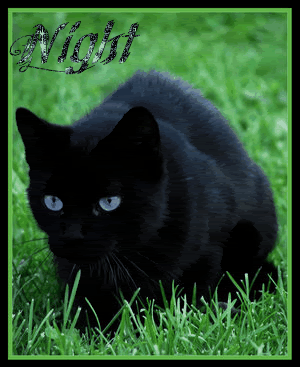 Name: Eclipseclaw

Age: 13 moons

Gender: She-cat

Clan: ShadowClan

Apprentice: None

Rank: Warrior

M/C: Undecided

Kin: Honeydapple, Emberthroat, Canyonkit (deceased), Acornsquash(deceased), Goldenbutt (Haha, deceased), Foxstep (deceased), Tigertail (deceased)

Description: Eclipseclaw is a small-built cat with short, sleek black fur. She is black, even her nose, inner-ears, and pads of her paws are black. She has a white splotch on her stomach. However, in the sun's glow her thin whiskers can pass for a dark shade of silver. She is muscular, but gracefully so that she does not look overly bulky. Her claws are black as well, making them difficult for an opponent to see, night or day. Her muzzle sticks out almost pointedly, yet the fur framing her face appears rounded. Finally, she has murky blue eyes, ever swirling with mysterious thoughts.

Personality: Eclipseclaw is quiet, and her voice has become raspy at a young age, as if her throat dried from constant sobbing. She is not strategic or calculating as Acornsquash had been. Yet she possesses a knowledge just as true as technical fact. She has gained wisdom and can see through most lies and past threats.

She doesn't look it, but she carries burning hatred in her core. Sometimes it flares up for no reason at all, but she'll picture Acornsquash's smug face and she gets violent. Rather than saying anything, or hitting some cat, she claws tree bark to release the rage.

Though her hatred makes her seem brave in the daylight. Eclipseclaw suffers in the place she knows that she is powerless...her dreams. She has horrific nightmares, reliving the deaths of her siblings, especially Goldenbutt(ha).

She has many issues, but she puts what's left of her trust goes to Starclan, There must be some reason that they spared her from Acornsquash's wrath. As for her siblings, she watches them closely, but distances herself from them at the same time. She is never cold or mean to them. She just doesn't want to get too attached. Which is hard to explain to Honeydapple.

History: (basically the same as Honeydapple but I'll try) Eclipsekit was born in a litter of four. The second litter of her parents Tigertail and Foxstep. Their first litter of kits had already become apprentices.

The kits lived happy normal lives for the most part. Unfortunately, one day Acornpaw and Goldenpaw, their older siblings, had come to play with them. Eclipsekit was thrilled to see her brother, but Acornpaw insisted on playing with Canyonkit, her brother and the only tom of the litter. She could tell that he was hurting him, but by the time she spoke up it was too late. Stunned, she listened in petrifying fear as her brother threatened to kill them if they told any cat.

Eclipsekit became quieter and all the wiser because of her brother's death. She watched Acornsquash become a warrior, and felt burning hatred for him every moment throughout the ceremony. She tried to convince Goldenbutt(haha) to get help for them, but sadly Acornsquash got to her first. Again, she and her sisters were forced to watch a sibling die, and threatened not to speak of it. Eclipsekit never knew if Acornsquash had heard her ask Goldenbutt(HAHA!) to get help. She never knew...if she was responsible for her sister's demise.

Moons later, Foxstep disappeared. Eclipsekit, even more knowledgeable of the cruel world now, figured that there were two possible explanations: He ran away, or Acornsquash got him. She would never know which was true. She preferred the latter, but held out hope for him to be alive too.

Her mother, Tigertail, abandoned Eclipsepaw, Honeypaw, and Sunsetpaw. Eclipsepaw brushed it off, now used to having family disappear or die around her. Acornsquash turned up dead. Eclipsepaw didn't even sit vigil for him. She spent that night pretending to be violently ill.

She became a warrior alongside her three siblings. He suffix is "claw" in honor of her mentor and her hard-earned fighting skills. Although she still despises Heronstripe, Honeydapple's love, her bond with her sisters has proved stronger than her hate of him.

Roleplay example:



Other: No picture isn't mine.
Posted by . s p o r e l e t t ♪ on Nov 14, 2011, 6:58pm
Since her sisters are both 13 moons, you'll need to update her age before she can be accepted. Also, there's no mention of her transition from apprentice to warrior in her history, and she's still mentioned by her apprentice name in her appearance and personality.
Posted by Yoko on Nov 14, 2011, 9:34pm
Better?
Posted by . s p o r e l e t t ♪ on Nov 15, 2011, 10:30pm
Eclipseclaw is accepted!
Click Here To Make This Board Ad-Free
This Board Hosted For FREE By ProBoards
Get Your Own Free Message Boards & Free Forums!
Terms of Service | Privacy Policy | Notice | FTC Disclosure | Report Abuse | Mobile